About UNIMAS
»
Centre for Academic Information Services (CAIS)
Centre for Academic Information Services (CAIS)
About Us
Background
The Centre for Academic Information Services (CAIS), Universiti Malaysia Sarawak (UNIMAS) was established in early 1993 and began its operation in May 1993. The Centre has actively acquired library materials including CD-ROM databases to build its collection. CAIS started providing library services and facilities to users especially the pioneer batch of students and academics at Jalan Taman Budaya, Kuching before moving to Kota Samarahan in early 1994. The Centre acquired Micro-VTLS (Virginia Tech Library System) in August 1994 mainly for cataloging and online catalog before migrating to VTLS in July 1995. Users were then able to have access to the collection via our Online Public Access Catalog Easy PAC. In 1995, the Centre acquired CDNET, a CD-ROM Networking System to enable all networked users to have access to the CD-ROM databases available in the Centre.
CAIS Medical
2002 also marked another milestone for CAIS. In November, the Medical Library was set up at the Faculty of Medicine and Health Science's new building at Lot 77, Jalan Tun Ahmad Zaidi Adruce, Kuching to support the Faculty's teaching, learning and research activities. It occupies an estimated area of 6500 sq.ft. that can accommodates about 200 patrons, 2 Computer Laboratories for 60 seats and a shelving area that can take up to 80,000 volumes of books and journals.
Moving Forward
In March 2005 CAIS has migrated to a new Integrated Library System, which consists of 3 main subsystems i.e. Library management system Millennium, Materials Flow Management System and Extended Modules .The Materials Flow Management System supports and automate daily activities in the areas of security, materials processing, self check-in and check-out as well as inventory control. Extended Modules consists of Smart Library Skills, Smart Reference Desk, Academic Forum and Visitor Tracking .The Integrated Library System was activated on 22 June 2005 and subsequently opened to patrons on 4 July 2005.
On 6 February 2006, CAIS officially started operation in the new building. The impressive new building, with an area of about 22,600 square metres, spreads over 5 floors. It is a contemporary building specially designed to be one of the pull centers in the campus. The Centre offers a variety of services and facilities such as a big exhibition area, an auditorium, seminar rooms, discussion rooms, computer laboratories, carrel rooms, media room, 24-hour reading room as well as chill-out rooms.
CAIS functions as the Knowledge Centre for the university. The Centre supports directly and contributes to the success of the academic programmes. CAIS's strategic location enables students and academics easy access to the Centre. The IT infrastructure enables the Center to function as an integrated user-oriented Centre for the acquisition, processing and dissemination of information and knowledge. CAIS has been building up its bibliographic database thus enabling users to access the Centre's collection through Web OPAC, an online public access catalog. Besides the bibliographic database, CAIS together with the other public university libraries have embarked on a few projects to develop online databases such as the Malaysian Theses Online, the Malaysian Gateway to Internet Resources, the Serials Online, the University Repository as well as the National Union Catalog.
With the availability of the Campus Wide-Area Network, users can access the system not only from within the Centre's building but also remotely. In an effort to fulfill the ever-increasing and challenging information needs of users, CAIS has subscribed to online databases in related subjects. In addition to printed materials and e-books, CAIS has subscribed to a growing number of e-journals to further enhance the accessibility of information and knowledge.
The Library Management System being user-friendly serves as a one-stop access point to all services and facilities provided by CAIS. Users can access our CAIS OneSearch at http://www.cais.unimas.my/ CAIS OneSearch provides a single, unified search box for searching CAIS's information resources, including scholarly e-journal articles, books, e-books, internet documents and UNIMAS Institutional Repository. Features of the service include:
Single, simple entry point for searching many databases at once, including the Centre's catalogue,
Pre-indexing of a vast quantity of metadata ensures immediate search results
Detailed metadata (e.g., author-supplied abstracts, keywords, subjects)
Indexing for thousands of journals from publishers such as Sage, Elsevier, Wiley, Taylor & Francis, and Cambridge
Complete library catalogue loaded directly , with real-time availability checks and daily updates
Ability to limit searches by date, source type, subject, content provider, full text availability, scholarly designation and more
Powerful, user-friendly interface
Users can check and update their own record, their loan status as well as fine accrued. For resource development, users can suggest materials to be acquired by filling up the Online Suggestion Box. For materials not found in the Centre or out of print, patrons can fill up the Online Interloan & Document Delivery Service Form. CAIS also provides Online Patron.
CAIS ILF Sibu
In 2007 a Resource Room was established at the Integrated Learning Facilities in Sibu to provide information resources for the medical students doing their clinical postings. With a floor area of around 200 sq.meter, it can accommodate about 5000 volumes of reference materials, 50 seats and a computer laboratory that can accommodate 15 workstations.
CAIS Pre University Studies
CAIS Pre University Studies, located at UNIMAS East Campus was established in 2010 to support the learning and teaching needs of students and staff of the Pre University Studies.
Chief Librarian
From the Chief Librarian's Desk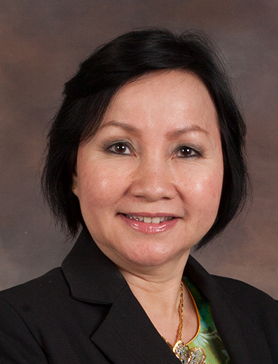 A Library is a critical part of any higher education institution. Libraries play an ever increasing role in providing vital information resources to their clients amidst facing mounting challenges brought about by changes happening in the organizations and higher education worldwide, advancement in the ICT world that bring about new modes of information storage, assessing and dissemination, changes in learning environment, increasing student internationalization, new mode of research and many more. With the current scenario of emphasizing outcome-based in higher education, librarians need to restrategize their roles to support teaching, learning and research activities. All these put increasing demand on them to enhance their knowledge and skills.
Librarians need to keep abreast with changes and to be pro-active, innovative and be able to work closely with the organization so as to be able to serve the community efficiently and effectively. They must add values to their libraries and services they provide and to show their importance to the organizations. They must be able to show positive returns to the investments made on them. Most important of all is the communication part, how do librarians communicate clearly the value of their services? How do librarians ensure that the services they provide fulfill what their clients' want and not what they think their clients need?
I hope that this website is useful to our clients seeking information. Please do not hesitate to contact any of our officers if you have any query about our products and services.
Kind regards,
Margaret Simeng
Chief Librarian
Vision & Mission
Vision
To be an efficient and effective one-stop information centre.
Mission
The Centre for Academic Information Services (CAIS) supports the University's commitments towards achieving excellence in learning, teaching, research and development of new ideas. This is achieved by the following objectives:
Acquiring, managing, supervising and disseminating information resources to support the University's teaching, learning and research activities.
To provide access opportunities towards knowledge and information for the University and society.
To develop skills in searching and usage of information among user.
Client Charter
In line with CAIS' vision to be an efficient and effective one-stop information centre, we promise to:
Manage and provide relevant, quality and up-to-date knowledge resources in diverse subjects
• Ensure feedbacks on the proposals for the acquisition of knowledge resources are given within three(3) working days
• Ensure that all subscribed electronic resources can be accessed within 24 working hours upon receipt of the notices from the suppliers/publishers
• Ensure that at least 85% of knowledge resources received through purchase can be accessed by users within twenty one (21) to thirty (30) working days upon receipt from Knowledge Resources Development Unit
2. Provide diverse facilities and information services in line with technological advancement as well as meet the demands and needs of our customers
• Ensure each process of check-in and check-out of books at the Circulation Counter can be done within one (1) minute, subjected to Information and Communication Technology System.
• Ensure at least 85% of internal inter library loan requests are fulfilled for the current year
• Ensure all electronic resources can be accessed 24X7 subjected to Information and Communication Technology System.
3. Assist customers to search, access and find fast the right and quality information towards the enculturation of lifelong learning
• Ensure feedbacks to the customers' information needs are given within two (2) working days
4. Provide professional customer-friendly services and are open to suggestions and constructive criticisms towards our services
• Ensure that at least 85% of participants for each Information Literacy session are satisfied
• Ensure at least 85% of customers are satisfied with our services and facilities
5. Provide a conducive and pleasant environment for our customers' satisfaction
Rules and Regulations
To safeguard the interest of all, members are reminded that the following are observed at all times :
Users are requested to cooperate with the staff to create a quiet and pleasant atmosphere in the Centre
Users are requested to be properly attired at all times.
Users are required to show all books and other items for inspection at the exit.
Users are required to show their cards whenever they want to check out materials or use CAIS services. Any material to be taken out of the Centre must be checked-out accordingly. * All checked-out materials are to be returned before or on the stipulated time/date.
Fines are charged for overdue items.
Open Shelf Collection: 20 sen/day
Serial collection: 40 sen/day
Media collection: 20 sen/day
Red Spot Collection: 20 sen/hour
Theses and dissertations: 20 sen/hour
For lost item the borrower will be charged twice the original price of the item or a replacement of the item be made.
For an item that was received as gift, the borrower is required to replace the item with similar title. However if the item is out of print, the borrower will be charged based on the total number of pages i.e. RM0.20 per page for local publication and RM0.40 per page for foreign publication. An additional RM50.00 processing fee and RM10.00 fine will also be imposed.
Anyone caught defacing/tearing pages out of any material (book/journal/media) shall be required to pay twice the original price of the material. Anyone caught trying to smuggle out any material (book/journal/media) shall be suspended membership for one (1) semester. Their names will also be submitted to the University's Disciplinary Committee for appropriate action.
Anyone caught using mobile phone in the Centre shall be suspended membership for one (1) month.
Fines for overdue/lost books
Ten (10) days before a book is due, a courtesy reminder will be emailed to the borrower.
Three (3) reminders will be respectively emailed on the first, second and third day the book is overdue.
If no response is received from the borrower, another reminder will be sent one (1) week thereafter.
If there is still no response from the borrower two (2) weeks after the third reminder, the book is considered lost. The borrower is required to replace the book with a similar title or pay twice the original price of the book.
No refund will be made once payment has been effected.
CAIS Info
Services
Membership
Opening hours
External Links
Start Here
Welcome to the UNIMAS WIKI.
To start, use search function by entering keywords in the search box below :